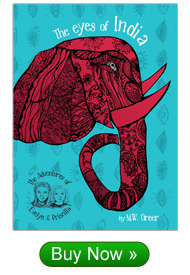 The Eyes of India

by M.W. Greer
Have you ever wondered what happens when we die?
The question has been running laps in Annie's head for two days since her dog was hit by a car. When her Grandma Evelyn stops by to visit, she begins to tell a story from her past that might help Annie to see the death of her dog in a whole new way.
The story begins in India, where a young Evelyn and her sister, Priscilla, receive the unbearable news that their uncle has died. The two sisters set out for the city of Varanasi with a tour guide to meet up with their traveling parents. Early on in their trip the girls are separated from their guide, setting them off on a journey through the jungle and into hidden villages of India. While the girls try to find their parents, they learn to follow their intuition and navigate with their third eye. From the colorful Holi festival to the funeral ceremonies along the Ghats of Varanasi, the girls make many unexpected friends along their adventure that help them to see the universal connection we all have to life and death.